All fields must be filled out with relevant and correct information -
- else your request will not be processed. It's not enough to tell us you are a freelancer or self employed.

We need the name and address of at least one employer to verify your information.

Please do not waste your own and our time filling out the form with gibberish. It is screened by a human being.

Expect a couple of days' delay to get a return email from us.
Why only for pros and subtitling students?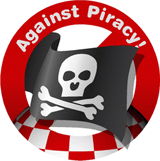 We have spent considerable amounts of time and money on the development of our program and have to protect our copyright to stay in business. That's why we screen applicants to keep hackers, crackers, and pirates at bay.
Why an Internet Service provider?
Anyone can obtain a Gmail, Hotmail or Yahoo mail address and stay anonymous. If you haven't got an ISP mail address, we need some other kind of identification. That's one of the reasons why we ask you for the name and address of the company/companies you work for.